Years I am already telling others how important it is to do regular exercises also at an elderly age. Several years I also gave therapeutical classes for people who had problems with their body or who had come in an older age category.
This year my thoughts were confirmed by a study by the Scottish university where academics concluded that resistance training could help to tackle the negative outcomes linked to people's frailty, including disability and death.
Many years ago I could witness how in the Soviet Union the Kounovsky technique helped people to recover very quickly. It was incredible to see how disabled persons got to move again. For years I taught the technique, not knowing that many years later it would be helpful for me too, when I had to recover from a serious car accident resulting in paralysis. With additional aid from the Belgian health service, regular revalidation training in hospital and revalidation centre, plus applying the Kounovsky technique to myself, I managed to regain the necessary mobility.
In Scotland, the Stirling University study presented the first study of its kind in the UK, with a team of care home residents monitored before and after using specialist equipment. The academics found improvements in the physical strength and function of 11 frail care home residents aged 65+, after they were given a six-week programme to do resistance training on specialised exercise machines for 30-40 minutes, three times a week.
In most gyms, resistance training machines operate with set increments for adding weight. But in this study, the 11 participants used tech that started them off with "near zero" resistance, automatically increasing gradually in line with their progress. And that is the way I am convinced gives the best results, slowly improving the amount of physical work, without any force.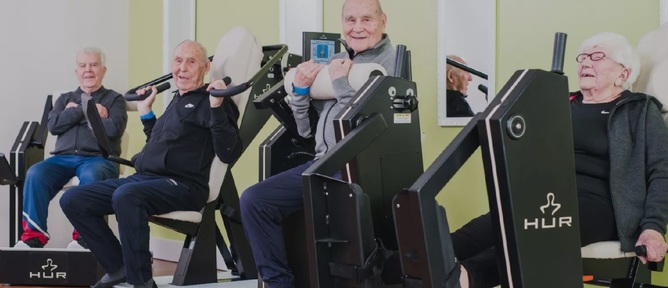 Professor Anna Whittaker, who led the study, said:
"Prior to our study, the effect of resistance training on multidimensional health in frail older adults was unclear."
The over-65s, all living at Olivet Christadelphian Care Home in Birmingham, took part in three 30-40 minute sessions per week over a six week period.
Having studied the care home residents over a six-month period, Professor Whittaker said:
"We observed major improvements in frailty and physical function – such as walking speed, functional capacity and physical confidence – in the group of frail older adults who participated in resistance training.
For me, this was not a surprise, because I believe in the positive results of regular physical exercises having also elderly in their frailty moving to the "pre-frail" status and increasing their walking speed by 0.24 metres per second.
says the professor.
They also experienced "clinically important" increases when their balance and ability to get up from a chair was tested. Additionally, the participants said the exercises were enjoyable and give them a sense of achievement and purpose.
The study 'A randomized controlled feasibility trial evaluating a resistance training intervention with frail older adults in residential care: The keeping active in residential elderly trial' was published in the Journal of Aging and Physical Activity. The research was funded through the European Commission's Horizon 2020 and a University of Stirling PhD studentship.
Even though the Kounovsky technique was not used here, as many people do not even know about it, I am still firmly convinced that there are several good techniques to get the elderly back into shape so that they can enjoy life more. The Kounovsky technique, for example, can even have a direct effect on both physical and mental well-being.
++
Find also to read: