In Belgium we are a very very tiny community. Our mother-church in England has many baptised members and everywhere in Great-Britain you shall be able to find Christadelphian Halls. Not so in Belgium, the Netherlands nor in France. We are not so lucky or not so blessed.
The difference with us and other Christian denominational churches is that we do not say people have to belong to our church or Christadelphia and as such have to be Christadelphian to be saved. for us the most important thing is that people come to find out that Jesus, a fleshy human being, is the way to God and to a better life, with the hope to an entrance in the Kingdom of God. We want to let others know that Jesus is our best and perfect priest.
For us it is most important to show that Jesus who died at the stake to show God's righteousness and to redeem those who receive this sacrifice by faith, is our only one man to really follow, him being the son to believe in him being most close to the Greatest and Eternal God.
It is true we want people going to a church, but not whatever church. We want to help new people who have never heard the gospel learn about Jesus. Coming to know that person who brought Good News, is what we prefer above coming to see they should become a member of our church.
We would love that they can find a nice church which brings worship in the manner God wants.  Growing a healthy, engaged, discipled congregation is what is on our bucket list.
Being convinced that we may be Children of God, we love to mobilise our and other congregations to impact the broader community. In our effort to bring people to Christ we shall already be happy when they decide to become a child of God and be baptised and when they do not find a church in their surroundings that they would be willing to create a meeting place to share their faith. When they would be interested in gathering in their hometown, we would be pleased to help them to construct such a small gathering or house church.
A disciple of Christ should be counting lives and friends dear to them and as such should be willing to make an effort of gathering more believers. In case there is no church in the neighbourhood, one should consider thinking of making a place where people can share their faith in Christ.
To help those who are isolated we do not mind posting thoughts and articles in a wide range of topics, plus sermons online or doing live streaming. Every Sunday morning we provide a Breaking of bread online service for baptised members. On Sunday afternoon and Wednesday evening, we provide a Bible Class online.
We encourage people to start Bible Classes in their own house or in a public space near their home so that they can attract people from their neighbourhood and start working with a nucleus of interested people to build up a regular group or community.
We might be a very small community, but that does not mean we would not have a handful of really committed volunteers. There also might not be many givers, and we could do with people who would not mind supporting us, but we keep going working with our own private funds to proclaim the Good News of the coming Kingdom of God.
We are aware that no church can thrive without the Power of the Spirit pointing people to Christ and moving in the hearts of our congregation. It is God Who calls people. We can only offer ourselves as instruments in His Hands.
We do hope God shall look and be willing to help those who sincerely try to provide places for honest worship. We also think in the long run any church that abandons the centricity of the gospel for the hottest new trend will ultimately fail, but that doesn't mean churches should ignore the resources God in His common Grace has given them to amplify the gospel message.
All of us should show others around us how the Gospel is given to mankind to help it. As humble beings we only can get more insight in God's Word by our study of His Word. Doing such a study with more people shall help all those present in the study to grow.
We know the Church in the past has used technological advancements to spread the good news of Jesus for literally thousands of years. And with astounding success.
Think about it: the printing press helped fuel the Protestant Reformation. But really, it wasn't just the printing press — it was the way Christians like Martin Luther used the printing press to print Bibles and distribute them to people who had never read Scripture in their own language. By the easier way of multiplication of the Word of God many ordinary or lay people could come to read what was really written in the Holy Scriptures.
A few centuries later, there was the telephone, microphone, radio, television, internet, and now, superpowered computers we carry around in our pockets and on our wrists. These are all great disrupters: they fundamentally change the way people interact with each other — and how information (like the gospel) spreads.
Now, we can see how churches everywhere are using technology to further their missions — but they're running into one huge issue. The way they're using technology is creating new problems even as it solves old ones — problems like disconnection between all their software, wasting time on duplicated work, and duct taping together systems that don't play nicely with one another.
Technology should make our life and ministry more effective. That's why it's time for one more paradigm shift — one that is designed to center communities around God's Word, eliminate duplicate work, and allow systems to work together seamlessly.
The shift should be moving from disconnected discipleship tactics and fragmented technology . . . . . . to a biblically rooted, step-by-step discipleship strategy built on top of a truly integrated ministry platform.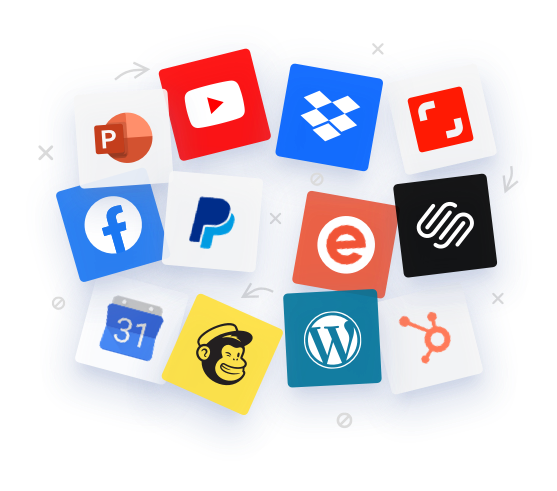 Integration means to bring together or incorporate (parts) into a whole. In the context of churches, an integrated tech stack is a critical component to moving from surviving the digital age to a thriving ministry that never compromises timeless biblical principles. This is about way more than just technology.
Integration is about way more than just technology. It's the foundational engine for reaching your and our city and community with the gospel in the digital age. It's also the automated powerhouse that's going to save you and us hours each week, freeing you and freeing us up to spend more time on ministry.
But such technological newbies do not come freely. They have a price tag.
Being limited in our finances we are already happy we can use WordPress and Blogger, plus being able to use at no cost the New Google Sites. We can only hope we can find enthusiast people who are willing to share our messages and would not mind letting others know about our articles.
Each of you can help us to spread our message and to spread the Good News.
Let us not, but even more important, let not the message of the Good News, in the dark.
*
All sort of help is welcome.
You also may help us financially by contributing to our Giro bankaccount:
IBAN: BE37 9730 6618 2528  – BIC ARSPBE22 with the notification: "Christadelphian preaching".
*
Find also to read:
+
Preceding
Today's thought "Ability to receive ableness from God" (May 11)